I hate the gym. There. I said it. I can't get my head around the fact that people fake run by running on a machine that moves the ground away for you, they fake row, fake cycle. I quite often work 15 hour days so squeezing in exercise can be a challenge, there's a Fitness First right next to my office. There's about five in fact. But I won't step foot on a machine. Why? The secret for keeping healthy for me (get ready for the cliche) is simply doing exercise that I enjoy, that's actually real.
I love yoga. Yup, holding my hands up. I could list the benefits for hours but then you'll think I'm earthy and hippy and maybe even a bit smug (which I'm not FYI… maybe just a bit but without the smug part.) You can't fake Yoga like you're riding a fake bike, you're simply doing Yoga. Same goes for running outside, SUP (stand up paddle boarding, one of my favourites) and of course surfing, sailing, hiking, boxing. Its all real, there for its enjoyable, has an actual point to it and its actually easier to squeeze it into a hectic lifestyle.
Roxy girls pre exercise
A few weeks ago I was lucky enough to test run some of Roxy's latest and greatest down in my favourite part of the world, Cornwall. #ROXYfitness involves my kind of REAL exercise. Yoga, a 3K race ON THE BEACH, finished off with a SUP race. Every detox needs a retox so we ate more Fish and Chips than the local seaguls and danced until the early hours on the beach. And yes you don't need a gym to dance! For my favourite Roxy picks check out next week's issue of OK! Magazine.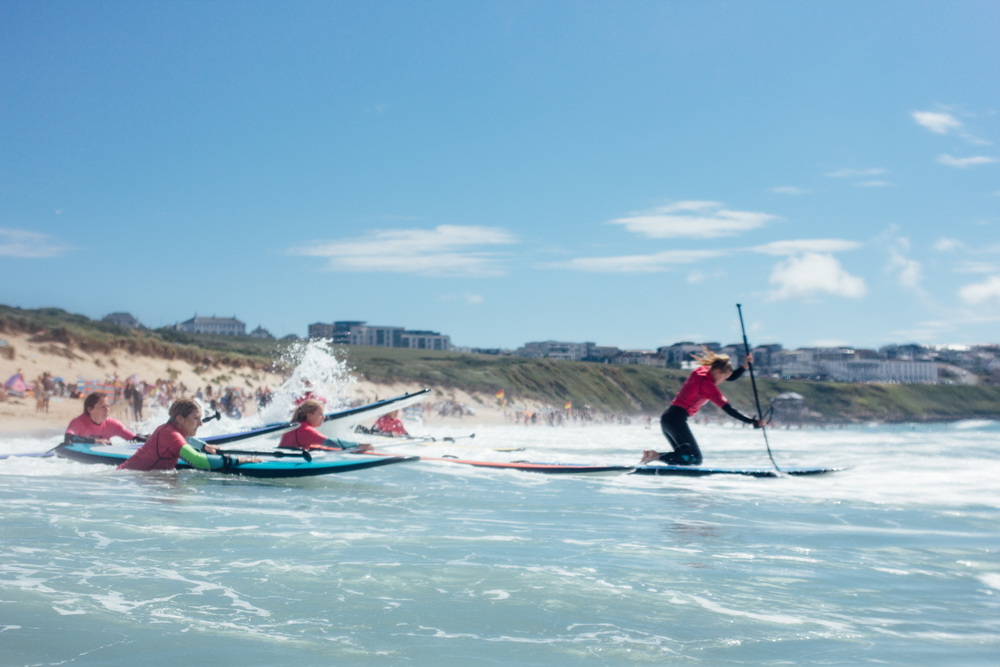 "We ate more chips than the local seaguls"