Slightly controversial. I'm getting overwhelmed by wellness. Don't get me wrong, I'm a bit of a cliche myself. I'm a Fashion and Beauty Director that practices Yoga daily, often seen darting round on appointments with a green juice in one hand, sipping it cautiously because it tastes like something that might have been dragged from the bottom of a bird cage, with an over sized yoga matt swung over my back, with a Vivienne Westwood Climate Revolution T-shirt on. Ok minus the -shirt. But I'm almost there.
Wellness has officially taken over our social media, we've all endured our fair share of endless feeds of mashed avo on himalayan unicorn seed toast, with a side of phoenix eggs, and now wellness is taking over festivals.
This year I was invited by Neals Yard to Wilderness festival. I left feeling BETTER than when I entered. I mean, if my 18 year old Bestival loving, mud crawling, cider consuming, cheesy chip obsessive self could see that, I think I'd have staged some kind of an intervention.
Wilderness made me realise more than ever before that green really is the new black. I snacked on fresh fruit lollies (only natural sugars allowed) and young coconuts, I ate Acai bowls for breakfast, tofu maki rolls for lunch and I devoured 'Buddha bowls' for dinner. I attended Yoga every morning, got the best massage of my life in a Neals Yard tent and boiled like an egg in the Sanctuary hot tubs, I even swung on a swing and discussed healthy eating plans with Deliciously Ella. (see above)
THIS IS NOT FESTIVAL BEHAVIOUR. But boy did it feel good. And when I accidentally found cocktails in my hands (note the plural) they tasted that much better. Like little drops of heaven. In a place that looked not that dissimilar to what I'd imagine heaven to look like.
Now, if I'm told to 'find a balance' one more time, I'm going to produce scales and ask someone to physically demonstrate. But festivals catering for being good and being bad, aka Wilderness and now Newquay's Boardmasters have really hit on something and I only see this growing.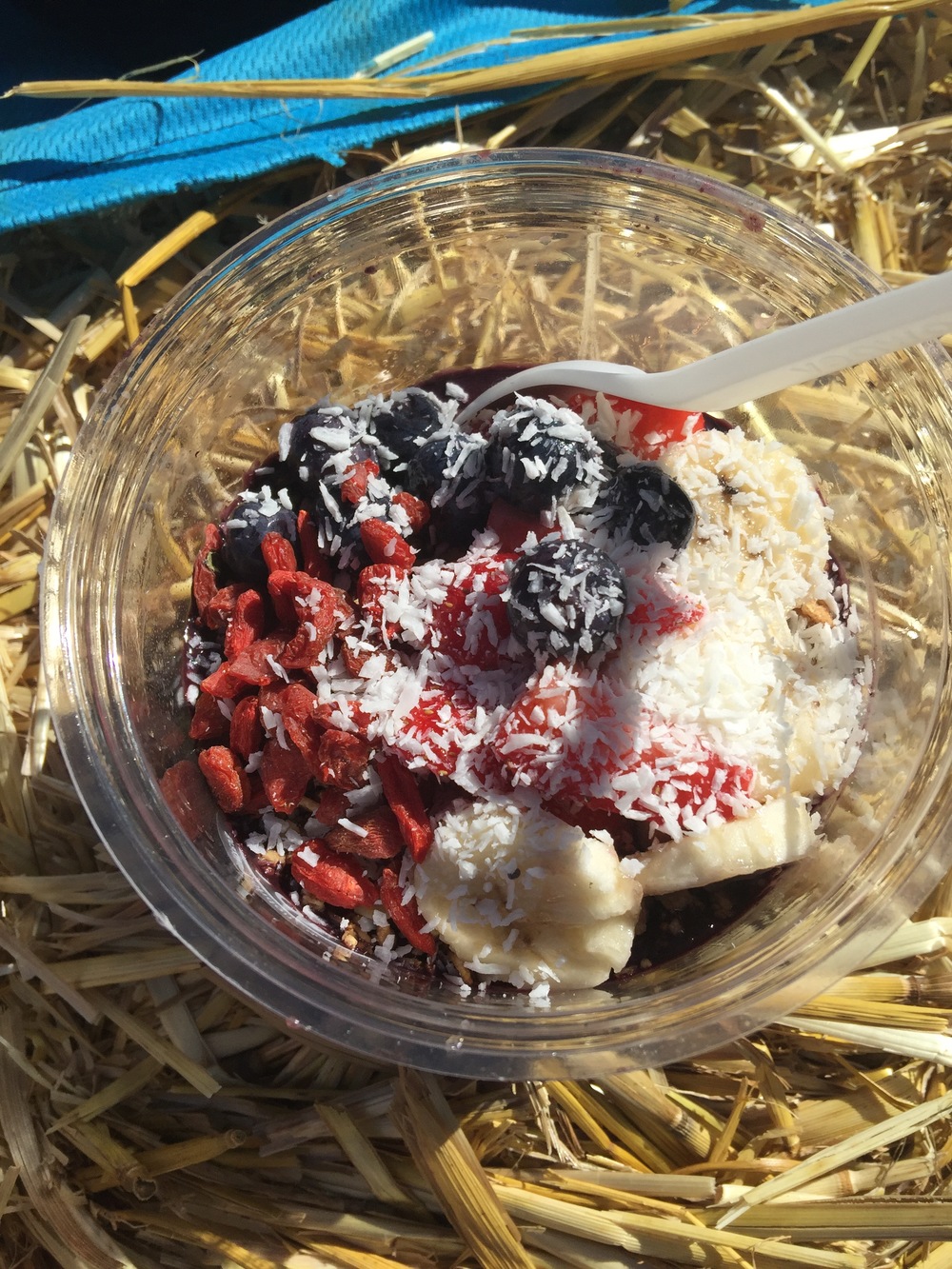 Throw 'Wellness' it into a field full of endless supplies of booze and parties and there's your balance. Look at it how you like, but take from it little slices of what you want (ideally Deliciously Ella's healthy sponge cake) and do with it what you like.The fact is, I consider us very lucky to have health in abundance being more accessible than ever. No one's forcing you on the wagon, you're just welcomed with open arms should decide to avoid sugar and cover yourself head to toe in only natural remedies (I'm looking at you Neals Yard toning oil.) And should you choose to throw yourself around a field drinking your body weight in cider post Vinyasa flow, then so be it. Well-derness is the way forward.