First off, ask yourself what is beauty? What does beauty mean to you? I've learnt very quickly from when I first dipped my toes in the industry at 21, that women are self critical about their appearance from any age (aside from childhood) no matter what their appearance. How is this right? Desirability and beauty are your birthright. Fact. You owned love, beauty, self-confidence and the amazing art of not giving a F**** as a child, how do we all come to lose it?
When I started my job I was known as 'the beauty guinea pig' (amongst other things) as I was the only intern in the office willing to try three coats of a spray tan paired with four sets of diamante fake eye lashes and electric pink lipstick for a feature. Then hey presto, a career in the beauty industry manifested. I guess it was worth the public humiliation when the photos of me in said get up went to press.
So over the years, I've continued to try everything, and I mean everything in the name of beauty. Skincare is fascinating. From the £1.99 stuff you get in Boots, to an acupuncture facial that had me rolling off the chair onto the floor in fear of the needles, to home made avocado face masks (that my house mate accidentally ate) Jennifer Anniston's favourite £350 exfoliating treatment, to a sheep placenta facial. You name it I've tried it.
Yes, some lotions and potions come with high recommendations from me, but the reality is that good skin comes from within. Slightly cliché, but oh so true!
Let me break it down..
We create our own skin cells from inside our bodies, not from serums worth £110. If you balance good skin care with a good diet, throw in some yoga, meditation and regular moments of calm you'll see differences. Our skin reflects what's going on internally and I don't mean ditch everything and live off an intense plant based, green, vegan, gluten free, food free cleanse and live a sad existence.
So here's my pick of skin loving essentials- note the lack of formulas containing extracts from the lakes on Mars costing you a months rent.
Nuts and seeds– They're packed full of skin plumping essential fatty acids, especially found in the skins of almonds. Don't freak out by the word fat. Fat doesn't make you fat, sugar does. Word.
Water- I know it's a bore off, but we feel tired (and look it) in the mornings because our cells are deprived of the stuff. Here's a trick I learnt off Cameron Diaz (drop it like its hot- sorry not sorry!) Watch yourself in the mirror drinking water first thing in the morning. Literally glug back a litre, then pour yourself another litre and drink that. I did it the other morning and I went from something from the thriller video into working day, 'eyes and teeth Rosie ' in seconds.And you can see it happening!
Chocolate-preferably The Raw Chocolate Co. Raw Chocolate Goji Berries
Here's the good news, the high cocoa content in dark chocolate increases blood circulation to the skin, giving a glow! Go for raw or anything over 70% cocoa solids as they'll be higher in antioxidants and minerals. If that's not enough to sway you, throw goji berries into the mix (they contain even more antioxidants and amino acids that replenish the skin) so you're having an antioxidant party in your mouth. Boom.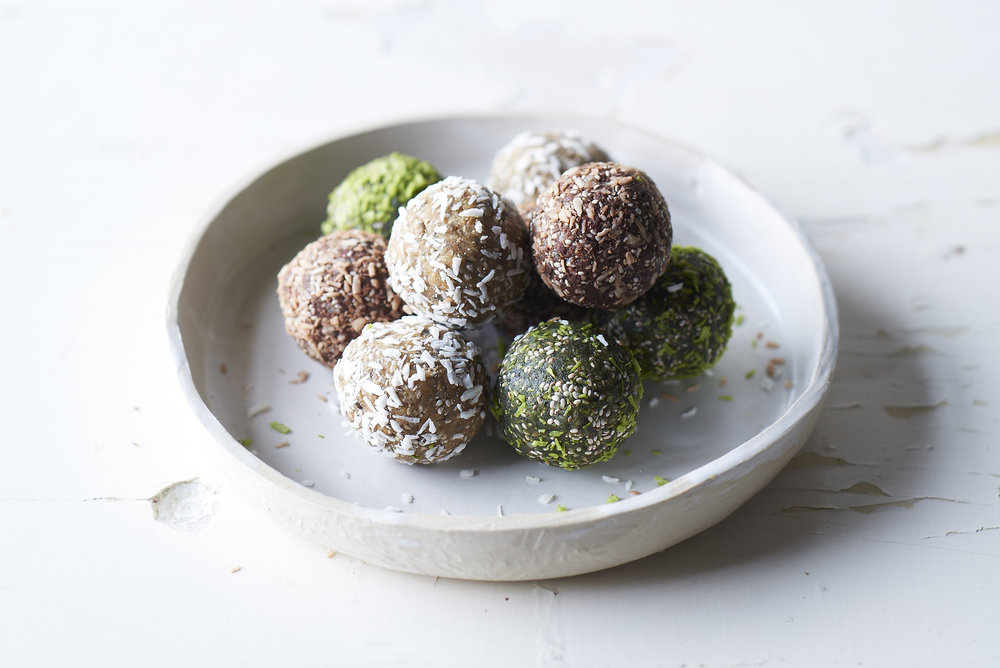 Neal's Yard Organic Berry Complex, £22, Neal's Yard Organic Greens Complex, £20, Neal's Yard Cacao Powder Raw, £2.50,
Neals yard know good skin inside and out. Fact. Combine these with their skincare and I'd go as far as saying you're guaranteed results (in a pretty ethical manner I might add) These are the perfect additions to smoothies, porridge, cereals you name it, they have it covered. The berry complex is packed full of antioxidants, (obvz) boosting radiance and collagen, the greens are great for aiding the detoxification process (crucial for healthy skin) and I've already raved about the benefits of cacao.
Vita Coco Coconut Oil, £5.99 for 250ml,
Getting the right fats into your diet are crucial at aiding great complexion results. Avoid foods that contain high Polyunsaturated Fatty Acids like industrial vegetable oils, instead opt for stable fats like coconut oil, it'll help curb your sugar cravings too.
NutriBullet RX, £199,
In seconds the design liquefies fruits and vegetables so no nutrients are missed, maximizing your intake of vital vitamins all crucial in aiding better skin results. Plus, this newbie from the range includes a SoupBlast mode that heats up your veggies into a hot soup!
Avoid sugar- It makes you fat and your skin break out and its highly addictive. I'm not saying this from a smug sugar free life, I love the stuff. If I could sugar coat everything I eat I would. The fact is it's addictive (hence my slightly mental outburst just then) one of the most addictive substances you can get (and this came from Davina McCaul who's an ex drug addict) Just limit yummy deserts if you can and find alternatives. Use the Neals Yard stuff I've been harping on about. It's amazing how much you stop craving it once you start cutting it out.
Do an inversion every morning- By getting upside down your face gets a fresh flow of nutrients and oxygen to the complexion, giving it a glow. They don't tell you that in a L'Oreal commercial now do they? 'Get upside down, because you're worth it.'
Make time to meditate- Breathing deeply and mindfully adds oxygen to the skin, giving cells a boost and above all it works to eliminate stress, when we're stressed the first place it shows up is our skin.
Get a good nights sleep- Your body can't metabolize properly without sleep, your skin does its renewal in the night…. Its called beauty sleep for a reason. Do it. At least eight hours. Getting sciency, when you're sleep deprived, your body makes more of the stress hormone cortisol, causing inflammation and increased skin sensitivity. Uh oh.
Avoid booze- sorry!! It actually takes all the fluid out of the skin, dehydrated skin causes wrinkles and its extremely hard/ expensive to reverse those bad boys once they're in place. It also inflames the skin's tissue, causing redness. The more you drink, the more the redness becomes a permanent fixture. Grim. I'm not saying don't drink. I do it all the time. Just be wary, never over do it and remember no drink is ever as good as the first, so reign it in and every now and then give your body a solid break from it.
Swap your phone for books-My kitchen is ramo full of healthy tips from the experts. Surround yourself with books. Look at a book like a gym for your mind. It exercises your brain without emitting blue light that keeps you up at night (thank you smart phones)
The long and short of the situation is to find a balance, and meditate like friar tuck and only ever eat green stuff. Obviously I'm joking. But by making a few simple changes into your routine will make you see big differences, saving you money or in my case a small will to live. Give it a go, I dare you! And if you don't see results then I personally give you permission to spend your life's savings in a department store, on a thimble sized amount of moisturiser. Just bare in mind that the most important thing to learn is to love yourself, be kind to yourself and be happy! Happiness show's up on your skin like nothing else, so just give yourself a bit of a break, be gentle and enjoy the process.